THIS EXCLUSIVE TOURS OFFERING IS NOW AVAILABLE FOR BOOKING
Luxury Dreamtrip Villa Accommodation Details:
---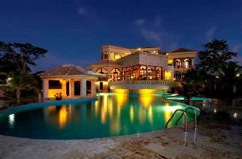 This Luxury Dream Trip Estate Experience is a fully-staffed 11,000+ square foot luxury vacation villa designed to provide the ultimate luxury vacation experience. Each member of our hand-picked staff has been specially trained to provide a level of unparalleled service so you only need to relax, unwind and enjoy your vacation.
The amenities of Luxury Dream trip Estate are among the very best in Caribbean vacation villas every comfort and luxury appointment has been created to insure a wonderful, relaxing environment for your vacation. Consider using Luxury Dream Trip as your personal vacation retreat this year!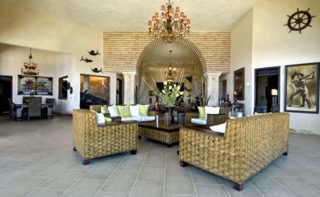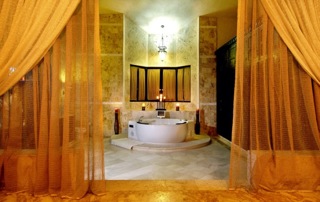 Consider all of the wonderful vacations you and your group can enjoy at our Luxury Dream Trip vacation villa. Whether you are seeking a romantic weekend getaway, a golf vacation with friends or the annual family vacation, our Caribbean vacation destination is perfect for you. Enjoy the panoramic views from every spot on the property!
You will have Four (4) King-Sized Air Conditioned Spacious Bedroom Suites, all with custom en-suite baths
Huge Great Room offering ample comfortable seating for your group and guests
Elegant Open-Air Dining Room with Custom Fixtures and abundant seating for up to 10 adults
Beautiful, Deep Shady Terraces with luxury furnishings for soothing Caribbean outdoor living
Elegant, Wrought-Iron Bar with mixers
Gourmet Kitchen with built-in wine refrigerator and top of the line appliances
Powerful 80Kw independent generator for uninterrupted electricity
High-Definition Television with DishTV Satellite & DVD Library
High-Speed Satellite Internet Connectivity (free)
45' Free Form, Zero-Entry Swimming Pool with unique tanning spa
Spa-Quality Padded Pool Chaise Lounge Chairs
Interior / Exterior Sound System with CD Library & iPod Dock
Children's Pool & Beach Toys
Beautiful, Custom 7' Beach Bar Pool Table
Fully Landscaped, Manicured, Specimen Gardens
Spectacular Hand-Hewn Stone Privacy Wall Surrounds the Villa
Fully Trained Staff including Executive Chef, Butlers/Hosts, Maids, Concierge, Masseuse, Laundress, Gardeners & Security
Only minutes from the Playa Grande Golf Course
Several Local Beaches within an Easy Drive
Luxury DR Dreamtrip Features:
---
Welcome Greeting Inside the Puerto Plata Airport (POP)
Arrival "VIP Service" Lounge
VIP greeting off your aircraft
Unlimited Beverages served with Snacks
VIP Immigration Procedure
VIP 'hands off" Collection of Luggage by SSPA Porter(s)
The VIP SSPA Experience Concierge Introduction
Round Trip Non Stop Airport Transfers
Luxury Suite Accommodation
(4) Nights in (1) Private Luxury Suite
Every A/C Bedroom suite has a private bathroom.
Private pool (s) with Hot Tub/Jacuzzi.
Satellite TV & Internet Access
Game Rooms, Billiards Table
Commercial sound system
Your Personal Staff
Private Chef (s) and all Kitchen Staff
Private Full Maid Service Including Laundry, Nightly Turn Down
Private Bartender (s) and Wait Staff
All Meals
All of Your Meals in the Villa – Caribbean "Gourmet" Style Menu (s)
Always minimum of two (2) entrée evening meals served (example would be Lobster/Filet)
All Non-Alcohol Beverages in your estate.
Concierge Service (s)
Always a Full time Executive Concierge (s) on site to make it a worry-free experience for you and your guests.
Open Standard Bar – Included
Fully Stocked SSPA Standard "Open" Bar
Import Liquor and Wine Available as Bottle Service Only ($)
One Box Complimentary Select Dominican Cigars (more available)
Transportation:
All 24-hour Ground Transportation provided by professional driving staff.
The Included Daily option(s) in the Luxury DreamTrips Package per full day on your visit Maximum of combination of (3) included
1 Round of World Class Golf on Play Grande per full day or
1 signature Spa treatment per full day
World-Class Golf
---
PLAYA GRANDE – Dominican Republic
Mother Nature gave us an average year-round temperature of 82 degrees. Father time gave us 100-foot cliffs on which to construct a golf course with 13 magnificent holes that run along the ocean bluffs. And the human race gave us Robert Trent Jones, Sr. to design what he admiringly said, was his greatest achievement. Ironically, it was one of his last. The world class 7,046 yard, par 72 Campo de Golf, Playa Grande golf course is the center piece of SSPA's incredible golf experience.
Pump some challenge into your daily workout, somebody needs to grace these fairways it might as well be you!
More about PLAYA GRANDE – Dominican Republic
---
Golf Course designed by Robert Trent Jones, Sr.
Length of Course: 7,046 yards
Number of holes: 18 Total of which 13 are on the ocean
Par / Slope / Rating: 72 / 126/ 74.9
The World-Class Spa is on site!
---
To Start Your Visit off Right we will invite you to enjoy (1) Signature Spa Treatment per full day per person when you are visiting with us.
All these Additional Activities ARE Available
---
In House Theme Nights & Casino's
Dominican "Kings" Feast – Fireworks, Dance Lessons, & Live Music
Our Dramatic Seaside 18 Hole World-Class Golf course awaits you
Professional Golf Schools & Lessons Available upon Request
Beach Horseback Riding or In House Spanish Lessons
Shopping, Cigar, or Rum Factory Tours
Water Sports- Windsurfing, Kite-Surfing, Boat Rides, Sport Fishing, Snorkeling, etc.
Nanny Service can be provided.
Night Life:
Casino's, Bars, Pubs, Clubs
Pricing
---
Luxury DreamTrips Price is $1,775 per person based on double occupancy

8 vip clients: $ 14,200
Compareto the San Juan Ritz Carlton at $1300/night? And then pay for your own food and drinks on top of that! That is just a Suite Hotel Room! $5200 just for your room for four nights! Add another $400/day for food and drink, and you are up to $6600! Two persons in our custom Villa with food and drink: about $3600 !
Luxury and Value – yes it is possible!
Disclaimers
---
Airline tickets are the responsibility of the traveler.
Must book your own airfare into Puerto Plata (POP)
*A $99 Government Accommodations Tax will be additional per person on the package rate.
Minimum of 12% staff Gratuities are not included but will be added to all exit tabs.
Must have a valid passport
Dates of Travel – Arrivals on the First Tuesday of every month of the year in September 2013 / June 2014 with Departure on Saturday
CALL CCW EXCLUSIVE TOURS TODAY TO BOOK YOUR
DOMINICAN REPUBLIC LUXURY DREAMTRIP OFFERING
THOMAS STARK: (801) 201-4653